I have been searching for a homemade granola recipe that doesn't call for ton of sugar. I found a few and modified them to make my own recipe with what I like.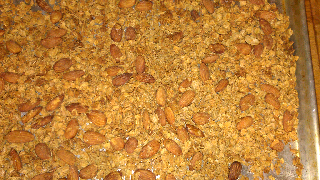 3 cups oats (not instant)
1 cup natural almonds
1/2 cup honey
1 tablespoon vanilla
1 teaspoon cinnamon
1 dropper full vanilla liquid stevia (optional)
2 tablespoons canola oil ( it will never brown without it)
Preheat oven to 325 and line a baking dish with parchment paper. In a large bowl combine oats, cinnamon and almonds. In a small bowl combine oil, honey, stevia and vanilla. Pour honey mix over oats and stir until well coated. There should be no dry spots. Pour mix onto baking dish and spread out evenly. Bake for 30-45 mins or until golden brown. Be sure to stir a few times to prevent burning. Once brown remove from oven and let cool completely. Once cool add dried fruit if desired and store in airtight container.